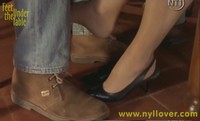 We were looking for this one since 2005… but finally we got it! It's the super erotic scene from the french movie "Bonjour Antoine". Antoine (Sebastien Chaudoul), a young student, is made dredge by Eleonore (a 40 years woman played by Elsa Servier, a really charming woman)!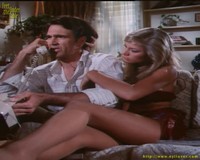 The under the table footsie scene is during a family dinner with the granny and grandpa of Antoine, Eleonore, her husband and Antoine. She keeps teasing te guy even if he tries to stop her. Really really one hot scene!
In the (old) hardcore movie "Souperman" there is a quick but nice scene, where a woman in stockings puts her foot on a guy's crotch.
And to end this update…a scene from the very well famous TV Series "The Dukes Of Hazzard"! The girlfriend of the villain (played by Ashley Cox) decides to give his head a hosed foot massage… lucky guy!
view
orginal post