Great footsie video from an indian film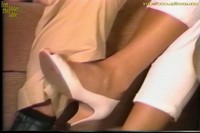 We finally got an under the table footsie initiated by female in an Indian movie. There are no subtitles but scene seems to be of a handsome young man invited to dinner and a young woman guest seems to want to make an impression with him and she kicks his foot with her sandaled foot. Then another guy at the head of table gets his foot in between the two and the young woman slips out of her sandal and uses her bare foot on the second guy's foot and ankle, all the time thinking she is playing footsie with the first guy. The second guy finally tells her what is going on and he is very amused but she pulls back her foot quickly. Movie is from 1998 and title is "Pyaar Kiya To Darna Kya", surely a video that you must have in your collection!
The scene from the hardcore movie "Lust In Space" is quick and brief... but still... a nice footsie with shoes on. I'm not going to tell you anything a part from the fact that the woman, a hot blonde, is wearing white high heel shoes and pantyhose...or stockings, can't know..
Labels: site update