Three hot footsie videos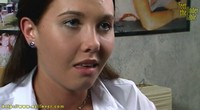 Here we are with a new update... featuring three really good footsie scenes!
The scene from "
Shameless
" is rather brief, but the face on the hot
Rebecca Atkinson
while
she puts her socked foot on this guy's lap
is really amazing. Surely enjoable!
Thanks to Babylove, online one of the hottest scenes since a long time! The scene is taken from the movie "
Emotional Girl 2
" and we see this asian girl dressed with a
black short dress, black pantyhose and black high heels
in pain because of her calf hurts her. So this guy
takes her foot in his hand and slowly starts giving her a massage
. She gets excited by this, so
she brushes her foot (still on heels) on his crotch
. Hot, really hot!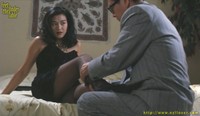 Another funny scene is the one taken from "
Criminal Intelligence
" where two couples are playing cards at the table and
one woman wants to play footsies with a guy but ends up doing this to the other woman
!
Finally, just wanted to remind everyone to
vote in the poll
to choose the
Pin-up Wow!
model to be featured in
the next interview
for
The Fetish Expo
!
Labels: footsies, site update, the fetish expo