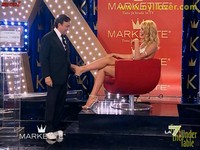 From the italian tv show "Markette", an incredible performance of the italian hot babe Valeria Marini. During an interview she keeps teasing Piero Chiambretti with her feet (shoes on).
In the tv series "Los Hombres De Paco", the hot tv star Michelle Jenner seduces a guy in the bathroom just after she puts nail polish on her feet. She stretches her lef toward him and puts her foot on his chest, looking at him with a teasing smile…
And to finish this update in a really good way, a classic (but brief) footsie under the table during a meeting! It happens in the tv advert "Office Romance" for the Sunslik Shampoo. It's a really classic one: a guy, a woman, a busy meeting and lots lots lots of passion. Check it out!
Finishing the update, some news about CamFeet, the foot fetish videochat site i'm cooperating with. We had a busy week, many of you joined the site and i truly hope you are collecting questions and suggestions because, as i told you, i want that site to be the one you were looking for, therefore… don't be shy in writing me and telling me what's wrong there!
Anyway, the biggest news of last week is that the gorgeous Cat, that i had the pleasure to interview a while ago, decided to join it. So… you'll find her there, under the name of Kory. She put there a lot of high quality pictures as well… be sure to visit her profile and… don't be shy to look for her in videochat… she will be more than happy to satisfy your foot fetish needs… and by the way… you can obtain her personal e-mail address and Yahoo messenger contact there as well!
Important
The server had been unreachable for a couple of days. The reason is explained here on my new blog. As you can see, it wasn't my fault. Anyway from now on i'll try to be a bit more prepared: i'm planning to move my blogs to different servers and, later, also the forum to another server as well. So that if something goes down, there will be something else online. Sorry again guys.
view
orginal post