Salma Hayek foot fetish video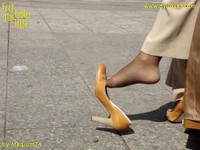 Salma Hayek does it again! After the scenes from "From Dusk Till Dawn" and "Ask The Dust" , "Lonely Hearts" is the third one we have with this gorgeous actress! This time she's siting on a couch trying to convince a man to join her... and to do so, she puts her foot (with shoes) between his legs, trying to pull him. Sexy, definilty sexy!
In "Wise Blood" we see a kind of weird scene... there's a girl in a car while a man is driving...she starts playing footsies with him (in a car, while he's driving!?!?!) and, after a while, she says him "Hey, stop it!"... is it weird or what???
This week Medium74 posted his first candid shoeplay video in our Forum.... and guys... what a beginning!!!! It's one of the best candid shoeplay videos i've seen in a while! A gorgeous blonde is sitting on a bench in town... she's wearing trousers, black hose and brown pumps... and she dangles like crazy!!! At one point the shoe is just on her finger! What can i say...welcome to the forum Medium74 and... keep them coming!!!
Labels: dangling, Salma Hayek, shoeplay, site update