HOT footjob on a plane...and under the table seduction!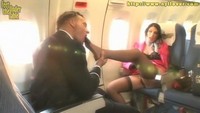 This update starts with the really HOT (and HARDCORE, warning!) scene from "Dorcel Airlines", thanks to OkMerlin. It starts showing us an hostess changing stockings on an airplane (ok...kinda weird...but it's a porno movie, what do you expect?). Then a guy comes and sits down in front of her. She starts teasing him a bit, then he kisses her foot and she gives him a great footjob!
Then there is the scene from "Nishabd", as hot as the first one, even if not hardcore. A gorgeous brunette (Jiah Khan) gives a really hard time to a man at the table, teasing him under the table with her barefoot! She's just restless and...evil! Really really hot!!
Labels: site update