Sofia Gucci puts her foot there...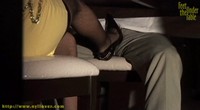 In today's update the great Sofia Gucci is the star of one of the hottest scenes we've seen lately here. In "Dirty Dance" she's having a romantic dinner with her boyfriend and, after some chat, she starts rubbing his leg with
her hosed leg and black shoe. Then she pushes her shoe into his crotch a couple of times... really hot!
And guys...if you still didn't, go and read the interview i've been lucky to make with Cat, one of the most beautiful webcam girls i've ever seen!
Labels: site update