Fantastic footsie under the table video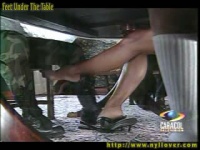 I think that the really really hot footsie under the table scene from the tv series "Por Amor A Gloria" can be considered as one of the best ever on the website!
We see this HOT wife playing footsies with a soldier (her daughter's boyfriend probably!) that is having lunch with her, herhusband and her daughter. She's not wearing any kind of nylons but she got killer legs and we see everything she does! She removes her shoe, then starts slowly with his leg...and ends up pushing hard into his crotch!
The old and nice commercial for the Clarkes shoes is one of those rare clips that i'm glad i can put online. It ends up with this lady briefly playing footsie over a Clarkes shoe... really really a sweet video!
Labels: site update