Footsie, foot worship and candid dipping!
Here we are to a new update on "Feet Under The Table"! Here's what's new today!
First of all, From the indian movie "Muthu" (i'm not totally sure about this, so help me out guys), a nice barefoot footsie scene. He's stand ing looking at her coming into his direction...she slowly comes closer and... rubs her foot on his foot, looking at him with a teasing expression on her face.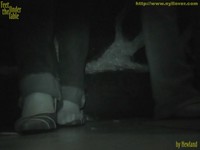 The scene from "The Amorous Lotus Pan" has a little bit of worship, a little bit of footsie and a little bit of domination. I really don't want to spoil it too much for you, so i just suggest you to go and take a look...surely an unique scene.
Online also the second part from the fantastic Newland video of his friend Xandra dipping at the disco... really a video we won't forget easily! Be sure to download this second part as well...as she totally removes her shoe and gives us a clear view of her toes!
Labels: site update