Footsie scene in Mandingo and...lots of shoeplay!
Here's what's new in today's update! As it usually happens when it comes to hard to find scenes, we need to thank Feeture for finding the scene from "
Mandingo
".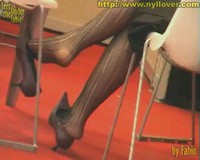 The footsie action is quite a lot, the only down side of it is that it happens in the background of the scene. So take your eyes on the girl in the left part of the screen...as her feet play a lot with the guy sitting in front of her!
Online also the last two parts of the lates
Fabio
's candid shoeplay video, the one with the lady on the phone dangling her high heel shoes. In part
2
and
3
we see a lot of shoeplay action, and her pantyhose only make it better!
One last thing before closing this updated... i've made a little change in "
The Fetish Expo
". There were starting to be too many websites there to list them all on a single page, so now you'll find links to multiple pages there, for an easier and faster navigation through all of them.
Labels: candid, dangling, footsies, Pantyhose, shoeplay, site update, the fetish expo