Tired feet candid videos and...footsie videos of course!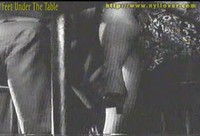 The title of this message says it all...that's, mainly, what's new today at "
Feet Under The Table
".
Firse of all, online the scene from the 1966 film "
The Face Of Another
". Is a rather long footsie scene and, although it's the man who starts it, the woman involved surely takes part in it later on.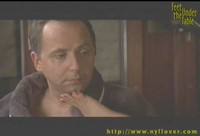 Camera is totally under the table, so we get to see al the action down there. Pity she doesn't remove her shoe but...it's 1966!
The other footsie (or sort of) scene online from today is the one from "
Barnie Et Ses Petites Contrarietes
": indeed a nice one. This woman is laying on the bed and, while talking to the man, she starts teasing him on his face with her naked foot.. quick but nice!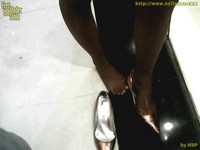 Coming to candid shoeplay videos... some more from The King Of Asia:
HSP
!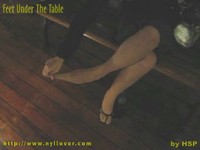 The first video is called "
Tired And Sore Hosed Feet
": after a long day shopping, every girl would just like to kick her high heels out and remain shoeless...and that's what she does, including some stretch to her poor toes! The second video is somehow similar...is called "
Hose Stretch
" and we see this woman who, while sitting, removes her flil flops and starts fixing her hose on her toes... anyone wants to help her?
Labels: candid, footsies, HSP, Pantyhose, shoeplay, site update