Julia Roberts uses her feet to seduce!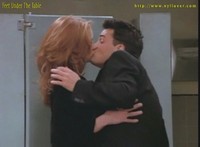 I don't know HOW i missed this scene before, especially because me and my wife are big fans of the TV series
Friends
. Anyway, in these days we were watching again the whole series and we saw an episode of Series 2 that has
Julia Roberts
as guest star and... she DOES use her foot in a seductive way! She's hugging her boyfriend (Matthew Perry) inside a public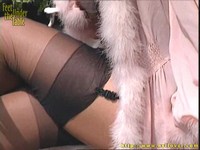 bathroom and she rubs her naked foot on his calf asking him to remove his clothes.
Online also a really nice scene taken from an italian porno movie, "
Novecento Erotico
". We first saw this scene from YouTube, after Jay posted the link to it in the
Forum
. Well, i managed to find a much better quality version of that scene so...go and enjoy it!
And as always, let's add some candid shoeplay to this update!
One of the most active members in the forum,
Sogfile
, just recently showed in the
Forum
his first candid shoeplay video... and it's with pleasure and honour that i put it in the main site. It's called "
Shoeplay With Brown Shoes
": a lady sitting outside just can't keep the foot inside her brown high heeled shoes!
Ah... by the way... if you still didn't, check out
the interview
i finally made with
Melanie
, of
Only Melanie
. I'm sure you'll enjoy that as much as i did... ;-)
Labels: candid, celebrities, celebrities footsies, forum, shoeplay, site update, Sogfile, television