Footsies and foot massage...under the table!
So yes, here we are to a new update of "
Feet Under The Table
". First of all, online the nice scene from the TV Series "
Medium
", with a hot
Perrey Reeves
that does a really classic footsie under the table to a man...without any luck actually. She's not wearing any kind of hose so... naked foot fans will be happy :-)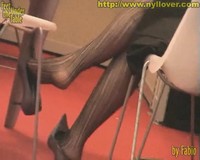 Then, from the italian movie "
Metti Una Sera A Cena
", a somehow disappointing scene. It's quite clear and evident that there is footsie going on under that table (and they actually speaks about it too), but we never get to see it! All we see is a couple of foot massages...still nice thing to see ok, but the director really didn't make us any gift! In any case,
Florinda Bolkan
is always a fantastic woman to look at ;-)
Finally, regarding candid shoeplay videos...a new one from
Fabio
. This time he shows us a lady
dangling her pump while talking on the phone
. She's wearing some really cool pantyhose too... pantyhosed feet and dangling high heels, it doesn't get any better than this!
Labels: candid, dangling, footsies, High Heels, shoeplay, site update