Dru Berrymore plays footsies...
In today's update of "
Feet Under The Table
", thanks to Feeture, online the scene from "
The Best Sex Ever
", with
Dru Berrymore
trying to tease a guy while they are sitting on the couch. He doesn't listen to her teasing...perhaps because she has some ugly gray socks on? :-)
Online also a higher quality version of the old scene from "
The Ace Of Hearts
" (thanks to Babylove). Thanks to this higher resolution, we can now see better what the woman is wearing...and those look like RHT stockings to me...what do you think?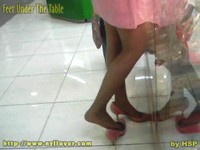 After some months, and update to the
Stories
section. First of all, i really want to thank
Marco Alessi
for writing a book dedicating it to me and my wife. The story is in italian, and you can read the first chapter online. If you want to read the whole book, download the PDF file. It's free. Of course...if you know italian ;-) Online also three more chapters from the story "Amber", by Aaron Martin: a really really nice story as well!
You can also find on this update another fantastic candid shoeplay video by
HSP
. It's called "
Pink Shoes Dipping
" and it features and asian lady making a lot of dipping action while shopping. She's wearing hose too...a really great combination! Hose + Pink Shoes + Shoeplay!
That's all folks... hope you enjoy this update as much as i did ;-)
Labels: candid, celebrities footsies, dipping, footsies, HSP, shoeplay, site update