Foot on face, footsie under the table and candid hosed feet!
Quite a big update today on "
Feet Under The Table
"!
First of all, online another scene from "
May Wine
", starring Lara Flynn Boyle. This is a hotter one: she is in the car with a man, wearing skirt, black pantyhose and high heels. While they are talking she starts teasing him with her foot (shoes on), putting it on his chest, on his face... she ends up having some...trouble, but the first part of the scene is really hot!
Thanks to
Larlibra007
, online also the nice scene from the TV series "
Black Tie Nights
". They are sitting at the table one in front of the other and she starts playing footsies with him under the table....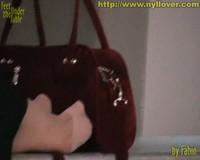 Speaking about candid videos... online a new one from
Fabio
, called "
Hosed Toes Missing Shoes
"... go and see it because it's a really good one!
Also online a new video from
HSP
, called "
Dining Hostess
": at the airport dining place, a hostess is having lunch without a shoe on and...she's somehow playing footsies with the table...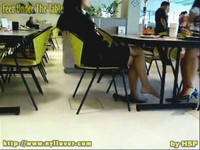 Before leaving you to the update, i'm pleased to announce that the italian website Club Rosso just put online a complete (and really good one) review of Feet Under The Table!
By the way....keep an eye on "The Fetish Expo" because there will soon be a new interview and a review online.... ever seen Only Carla website?
Labels: candid, footsies, High Heels, news, Pantyhose, shoeplay, site update, the fetish expo