Foot on crotch in the metro and...candid shoeplay!
Well... as i told you in the edit of my last message here in the blog, in the end we didn't go to Cinque Terre...so.. here we are with a new update of
Feet Under The Table
.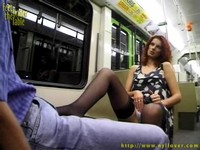 Thanks to OkMerlin, our "classic porno movie expert", we have a new scene from the german film "
Oeffentlich Zur Schau Gestellt
". The scene is quite surreal, as i don't think it could happen easily... in the metro, there is just a guy and a hot girl. She gets up, sits in front of him, open her legs...and start to move her nyloned foot over his crotch. Surreal but... hot indeed!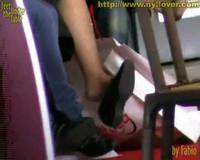 Then i've put online the scene from the film "
May Wine
". This one is instead a little bit too "soft" maybe. This girl (Lara Flynn Boyle) is laying down under the sun, with a guy to her side. They are talking and she starts rubbing his calf with her naked foot.
Also online two new candid shoeplay videos from
Fabio
, this time from an italian expo: Grafitalia. The first one features a girl doing some heelpop and some dangling with a ballerina shoe, in the second one a girl is keeping her shoe on just with the top of her toes.
Labels: candid, dangling, news, shoeplay, site update