High quality footsie videos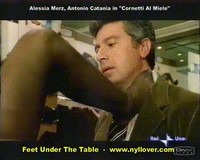 In this week's update of "
Feet Under The Table
" i've managed to put online a really high quality version of two of the best scenes of the entire site...i'm so happy about it!
First of all, one of my all time favourites: "
Cornetti Al Miele
", with the super sexy Alessia Merz. You all remember the scene...she enters a shoe store, sit down, remove her boots (she's wearing black pantyhose and a miniskirt) and when the man kneels down in front of her to help her...she puts a foot on his face telling him "
I never wear panties when i go to buy new shoes...
". Is there ANYONE of us who wouldn't love to be him?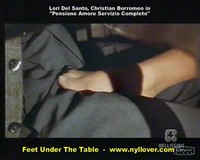 Then...the longest scene on the entire website "
Love Hotel All Service
" (aka Pensione Amore Servizio Completo). A super classic footsie scene: she removes her shoe and starts rubbing his calf, he joins in so she goes up to his crotch and he does the same... all this while a woman to another table is looking at them!
Labels: Boots, Debooting, Pantyhose, site update